Merrick, NY – Following a number of instances of antisemitic graffiti found in Wantagh and Seaford over the past few months, district officials in the Merrick Union Free School District announced earlier this month that graffiti had been spray-painted on the grounds of Birch School.
The markings included the Star of David, the word "Jew" and the date 9/13. It was sprayed on trees, bleachers and the school's gaga ball court.
District Superintendent Dominick Palma said the graffiti was discovered on the morning of Sept. 13, and was likely spray-painted overnight. "The district takes matters such as this extremely seriously," Palma said. "The Merrick Union Free School District does not tolerate bias."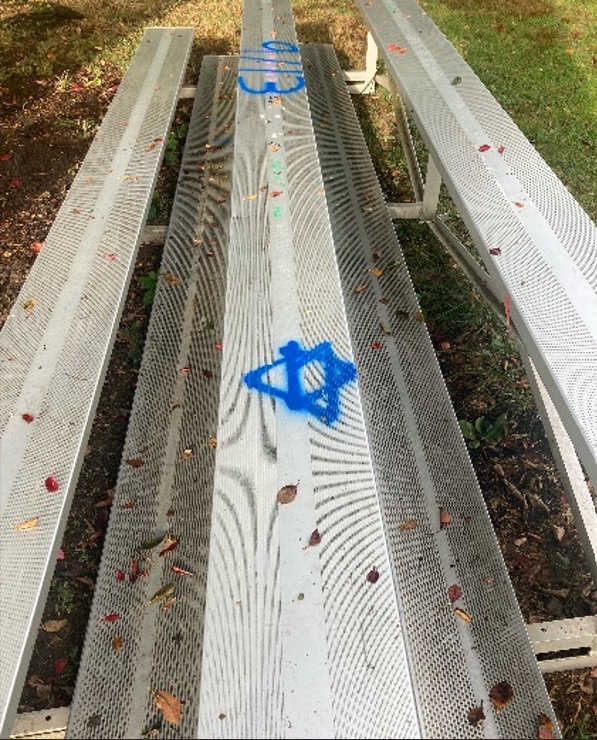 Birch School is one of the district's three elementary schools, with students from kindergarten through sixth grade. It is on Central Parkway in Merrick, not far from Lakeside School, which is on the south side of Merrick Road. Chatterton School is across Sunrise Highway, on Merrick Avenue.
Palma said the buildings and grounds crew worked to remove the graffiti by midday on Sept. 13, and that the incident was reported to the Nassau County Police Department. He added that the district was cooperating with the police in their investigation by providing video surveillance footage. He asked that anyone with information about the incident contact the NCPD.
Similar incidents have occurred frequently in the surrounding area over the past year. There were two reports of antisemitic graffiti at Forest City Park in Wantagh in April and August. Over the summer, antisemitic flyers were left on the doorsteps of a number of homes in Freeport and Rockville Centre, and this month, hate symbols were found at Cedar Creek Park in Seaford.
Town of Hempstead officials, including Councilman Christopher Carini, whose district encompasses parts of Wantagh, Seaford, Bellmore and Merrick, condemned the incidents. "Hate and antisemitism has no place in our society, and will not be tolerated," Carini said.
Rabbi Shimon Kramer, of the Chabad Center for Jewish Life in Merrick, also spoke out. Kramer was the victim of a hate crime in 1994, when a man identified as Rashid Baz opened fire on his car, killing two passengers and injuring another.
"I think history has shown us that hatred always starts with one group," Kramer said. "It could be the Jews, it could be others, but it never stops. It seeks to destroy our society."
The Rev. Wasyl Hrynkiw, of St. Vladimir's Ukrainian Catholic Church, in Uniondale, agreed that hate doesn't just begin and end with one group of people. "The people who did this are criminals, part of some hateful gang," he said. "We stand against them, and with humanity."
Despite the perpetrators' hateful intent, Kramer said that incidents such as these should encourage others to remain positive and spread love. "Every time I hear something like this, I think it's important to spread the love," he noted, "(to) show whoever is responsible that there is a community full of love they are going up against.
"We have to condemn the hatred, of course," Kramer added. "But I think we have to give them a message — and hopefully the message we give is one of love."
As Merrick schools embark on a new school year, Palma said, the district remains committed to teaching and emphasizing the importance of acceptance in its classrooms. "Our community is no place for hate," he said. "As we begin the year, we remain committed to making sure out entire school community feels they belong and are accepted.
"As such," he added, "we will continue to incorporate lessons of tolerance and understanding of others within our curriculum."