Amman – Jordanian airport officials refused to let an Israeli rabbi board a plane out of Amman until they had cut the straps off his tefillin, which they said was necessary for security reasons.
Rabbi Moshe Haliwa, who was catching a connecting flight Monday on his journey from Tel Aviv to Dubai, said that as a security guard sliced through the leather straps he had flashbacks of how the Nazis humiliated Jews during the Holocaust.
"It reminded me of images from the Holocaust of Nazis cutting off the payot [sidelocks] and beards of Jews," Haliwa told The Times of Israel on Tuesday. "It was quite harrowing."
Haliwa, originally from England, now lives with his family in Israel while also serving as the head of a Sephardic community in Dubai.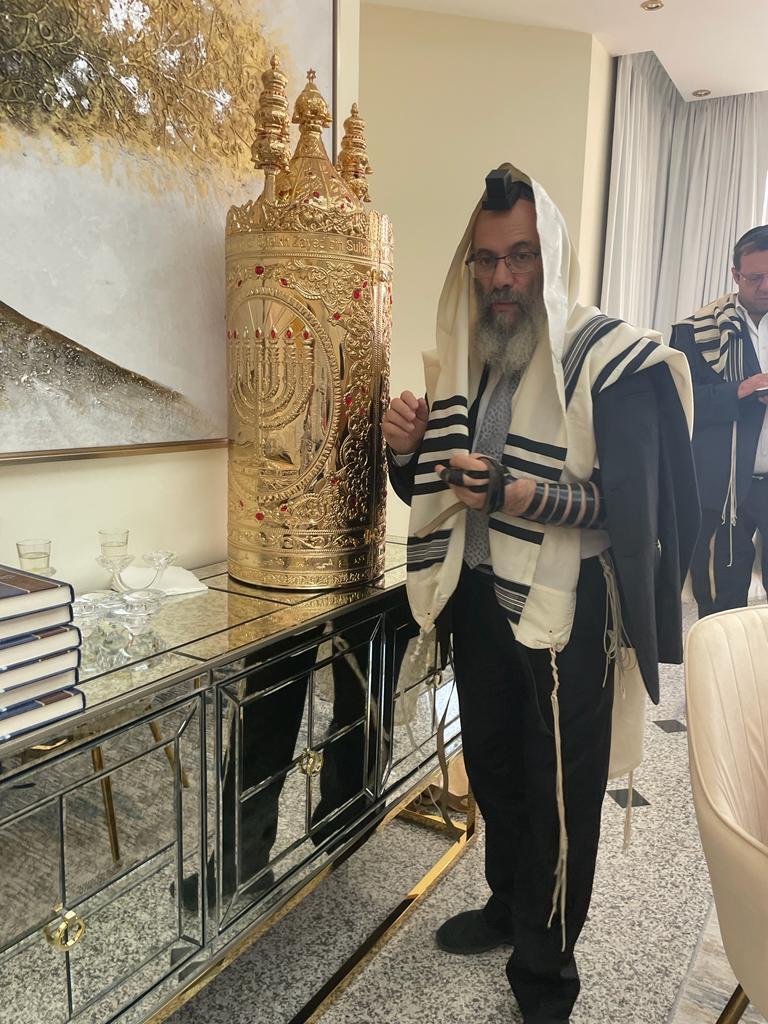 He flew from Tel Aviv on a Royal Jordanian Airlines flight that landed at Queen Alia International Airport in Amman. From there he was to catch another RJA plane to Dubai in the United Arab Emirates, where he has led the small community center for about a year.
Because he was traveling light, he had only his hand luggage including his tefillin. When he reached the security desk, a guard asked him what the religious items were for. Tefillin, which come as a set of two, are small black boxes containing parchment with handwritten passages from the Torah and leather straps used to wrap them around the head and arm during prayers. They are considered the second holiest items in Orthodox Judaism, after Torah scrolls.
"This guy wanted to check my bag for whatever reason," said Haliwa, who last week made the same journey in the opposite direction without incident. "They wanted to play power games."
Haliwa said he explained the purpose of the tefillin, one for the brain, one for the heart, containing prayers to God. He said he noted that Jews and Muslims are cousins, and pray to the same God, but to no avail. The security guard manager on hand insisted that he could not bring his tefillin on the plane as the straps were a security risk.
Haliwa said he assumed that all international airport staff is familiar with common religious items of different religions, including tefillin. That the guard wanted him to leave the items behind, "to me, that was a signal of antisemitism," he said.
Haliwa soon found himself surrounded by six security guards and instructed to move on while leaving the tefillin behind or face arrest. Not wishing to abandon the sacred items — "Who knows what would have happened to them" — he made a drastic decision and offered the guard to cut off the straps so that he could at least take the more valuable boxes with him. Without the straps, the tefillin cannot be used for prayer but can be repaired. The guard refused and insisted that he leave the complete tefillin behind.
Not willing to give in, Haliwa sought out more senior security management and eventually was able to convince a director to let him take the boxes with him. Together, they returned to the security counter and there, the guard cut off the leather straps.
"It was humiliating, it was painful," he said.
Haliwa now wants to warn people about the hazards of traveling through Jordan.
"I won't do it again," he said.
After reaching his final destination, he spoke with Israel's consul to the UAE Liron Zaslansky, who told him she was familiar with incidents of antisemitic harassment by Jordanian border guards at land crossings between Israel and Jordan.